Share Your Story
Thanks for sharing! Your story will appear on this page after several minutes. Feel free to share another story in the meantime or browse other peoples memories :)
Other Peoples Stories
I came here once, when i was 12.
--------------------------------------
Growing up I came here with my dad to get parts to build my own PC. I honestly never thought it would close, it was too iconic. Perhaps I was naive but it felt like somebody would swoop in and save the day, perhaps some silicon valley B'naire with crypto money to burn and a soft spot for DIY electronics or some Texas Oil Baron who grew up building their own PCs. It's more than the end of an era, its the sign of our society collectively shrugging at the changes imposed on us by late stage capitalism. However, this digital memorial and the associated community has made me realize that I'm not alone in mourning and perhaps there is room for us to build something similar or better in its place. Something more sustainable that matches the zeitgeist. RIP Fry's Electronics, Long Live Fry's 2.0
--------------------------------------
I enjoyed this project. In it I feel a weird juxtaposition of tech geek fueled optimism and the sad realization that it's now locked up in the past. Like a wake for Napoleon Dynamite.
--------------------------------------
I remember watching an interview of Elon Musk from my home in Moscow, hearing how Tesla engineers ransacked all the Fry's stores in Northern California to supply Tesla cars with a USB cable. Later on when I moved to Pleasanton I would drive by the Fry's store in Fremont and remember that story.
--------------------------------------
The Fry's in Dallas used to an Incredible Universe, which was owned by Tandy (Radio Shack). They had little living room mockups for listening to home theater surround sound. I would've lived in that store, if I could. The transition to Fry's happened prior to my becoming involved in modern PCs. Once I realized what used to be there, it instantly felt like home. The sales ad used to come out every Friday in the Dallas Morning News. I bought the paper just for that ad. I remember standing there with the guy who delivered Chinese food to a place I worked in downtown comparing the items we had circled. He barely spoke English and I speak no Chinese, but smiling and pointing to our respective papers let us communicate just fine. Later as I moved more professionally into tech work, I was in the store so often, the people in PC parts knew me on sight. No sales pitches came my way. I knew what I wanted and they knew I'd find a salesperson, after the fact, for an easy commisioned sale. I went in around Jan of 2020 and couldn't find a network cable. I knew it was almost over. It's sad to see it go. I've sold motherboards, memory, and even, a TV antenna while shopping there as a customer. Hopefully something will fill the void. Being able to walk in to a store and speak nerd to a stranger ogling the same shiny electronic doodads you are is a pretty cool experience. Whoever you were outside the store, you all had something in common inside it.
Comment archived from youtube
--------------------------------------
The first time I ever went to Fry's Electronics, it was to buy an external monitor. I was editing my first short film, and had come to a point in my creative practice where I felt comfortable justifying hardware purchases for the sake of my work. My friend Landon told me that Fry's was the best place to buy a monitor, because of their large assortment and price matching policy. I had never heard of it before, and was incredibly impressed when we showed up in Burbank – I wasn't sure at first why we had to drive so far to buy a monitor, but once I saw the UFO crashed into the storefront, I forgot about all my questions. There was something about that day that I will never forget.
Landon taught me a lot of the things I know about hardware, so I always thought of our shopping trips as significant for my education in tech. Eventually I started work as an educator in tech, and would encourage my students, who were mostly children, to check out Fry's Electronics. I was happy that I could recommend a place that was fun and not intimidating like the rest of tech culture.
Most recently, I helped my 12 year old brother build a gaming PC. He had never heard of Fry's Electronics, so I decided to surprise him for Christmas, and to reward him with a gift card of a dollar amount equivalent to his YouTube subscriber count. This complicated idea wasn't something that a standard superstore giftcard, so instead of getting him a Fry's gift card (what a financial mistake that would have been), I designed a Fry's branded plane ticket to symbolize the trip to the Burbank store.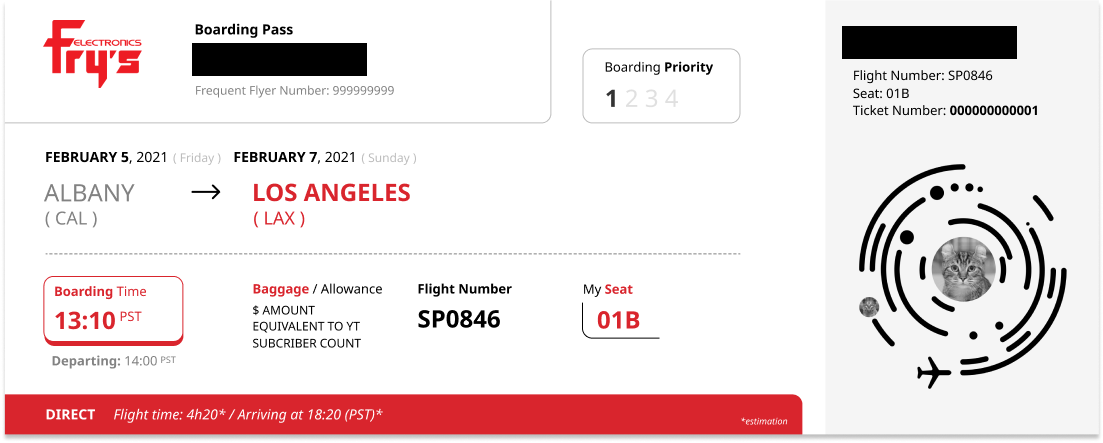 When we finally made it to the store (which was only February), all we could find was a hard drive. There were no decennt motherboards, very few PC cases, and I couldn't even find myself a Logitech mouse. We walked through the odd long aisles, he marveled at the cases of iced tea priced at $1.50 for a dozen bottles. I saw some odd end caps selling microwave dinner devices.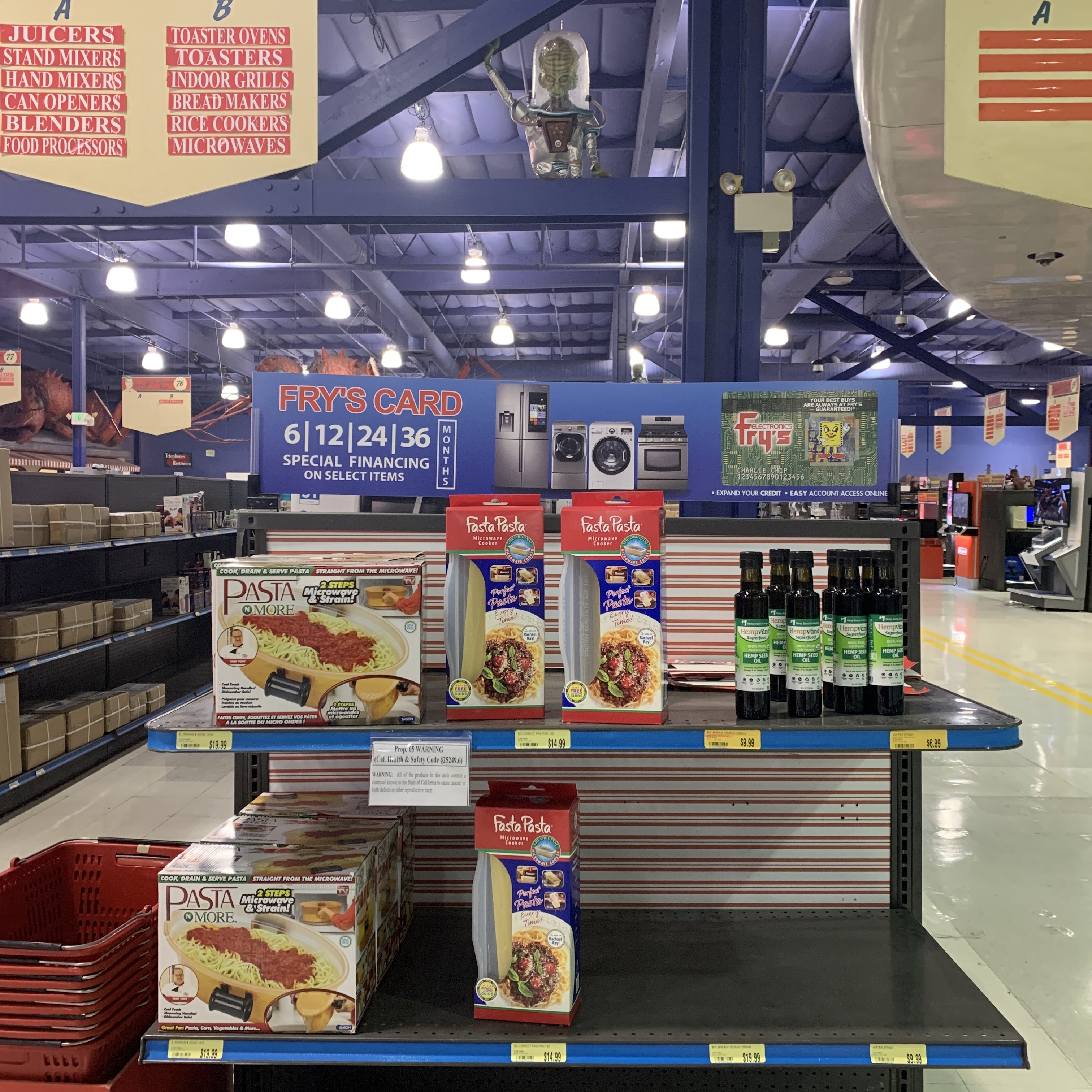 I ended up buying a glow-in-the-dark SATA cable for $1 or $2. I didn't need one, or even really remember what they are for, but I picked it up because I had never seen a glow-in-the-dark cable before and thought that if I had been shopping online I would have never discovered it. We had made a huge deal out of driving out to Burbank, so I decided to spend the $2 on an unnecessary cable, knowing I could probably return it if it ever became too huge a nuisance in my life.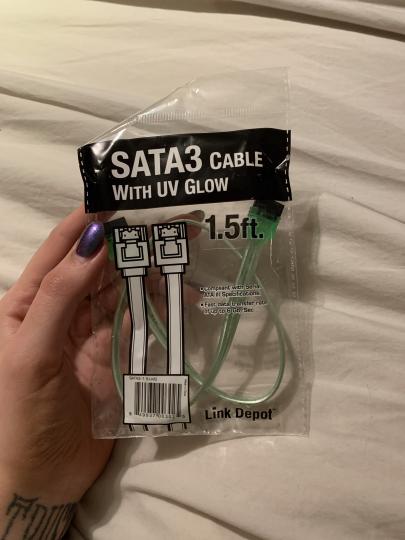 Eight days later, Fry's shut down.
--------------------------------------
My best friend Jonny Fritz and I have always loved going on double dates together. Often we're not even sure which girl is with which boy. It doesn't matter. We appreciate it as a form. It's capital-R Romantic, whether or not it's romantic. But gesture takes preparation. We once went on a double date in Buenos Aires, a town where dates regularly begin after midnight. We had planned to meet at some remote walk near the port, which at the time at least had little to offer as far as eating and drinking that late at night. So earlier in the day we snuck over the water and planted some sangría and oranges behind a rock. Later that evening, walking along the water, the girls on our arms, we regretted out loud that we didn't have anything refreshing like sangría or oranges. The girls agreed. "Oh well," we said, then, pointing to the rock: "Wait, what's that?" When we pulled out the refreshments, the girls— and there's no other way to put it— lost their shit.
Unless I'm forgetting something, our last double date was at Fry's electronics, with Kalyane and Magnus. The girls were kept in the dark as much as possible. I don't even remember if they knew what Fry's was. Fry's had something that all dates need to succeed: a certain phantasmagoria. The Fifties, the decade, is a different thing than the phantasmagoria of the Fifties, which lives on into the modern world, and is the perfect atmosphere for double dates. I think the girls were pleased enough with Fry's itself— the decor, the stock, the clientele. Then we took them to the diner, which had the works: Fifties music, diner food, tables outfitted in a few old convertibles. We already had them charmed by this point. But the kicker was yet to come. At the center of Fry's, once you entered the spaceship, there was of course a small movie theater, probably one of the most underappreciated features of the Los Angeles Metropolitan area. Normally they had some sponcon running on loop, but nothing prevented you from bringing your own movies, and Fry's had its own veritable concessions stand, with movie-sized candy and drinks. We brought Coming to America. And there were some technical difficulties, which I had to get some help from employees to solve. But the date was a triumph. It's hard to see how it could've failed, with all the romance and phantasmagoria of Fry's. We could have come to buy CDRs and it would've been absolute magic. How was the theater not a more regular thing for normal teens as much as for middle-aged adolescents such as ourselves? And how could— how can— Los Angeles let this Fry's go? The place had a real "mixed temporality" and that's incredibly difficult to replace.
--------------------------------------
Fry's was the only place you could get a motherboard and a can of dust off, then eat a dank tuna melt in the backseat of a 57 Chevy. You will be missed. <3
--------------------------------------